We believe that investing in each team member's unique interests and talents optimizes our overall capabilities and brings additional value to our industry partners and the constituents we serve. Through cross-training, mentoring, participating in professional organizations, and attending and presenting at industry conferences and seminars, we embrace new ideas and individual growth. Isthmus team members are involved in:
ACEC/MN (American Council of Engineering Companies of Minnesota)
WTS Minnesota
NCITE (North Central Section of the Institute of Transportation Engineers)
APA (American Planning Association)
TCSHRM (Twin Cities Society for Human Resource Management)
St. Paul Area Chamber of Commerce
In-House Training

Tech Tuesdays
Skills for Success
Project Management Development and Training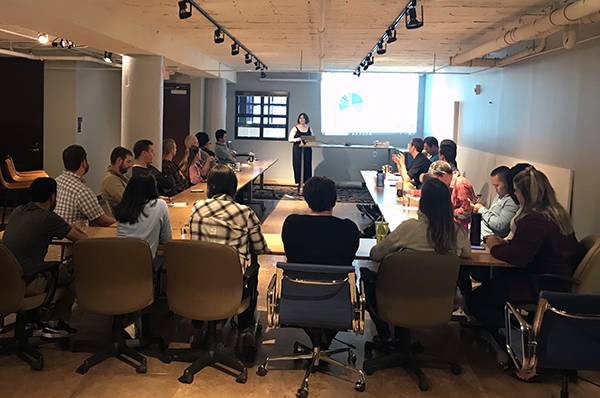 Career and Peer Advocacy Programs
Isthmus has developed Career and Peer Advocacy Programs to provide team members with support and resources for career and leadership development.
Career Advocacy Program
Each team member at Isthmus is paired with a Career Advocate who supports their individual progress. The goal is to develop a genuine and trusting relationship through formal and informal interactions with someone whose job it is to have your back. It also aims to:
Support meaningful and customized opportunities for individual career development.
Support individuals in establishing a sustainable workload through incrementally challenging opportunities.
Foster Isthmus Core Values and culture of individual autonomy and mutual accountability.
Peer Advocacy Program
The Peer Advocacy Program supplements the Career Advocacy Program for team members in senior-level positions and those in emerging service areas. One-on-one support is provided by someone with a similar level of experience. It's purpose is to:
Provide a meaningful and intentional space to discuss goals, brainstorm approaches to problem-solving, and celebrate achievements.
Foster Isthmus Core Values and culture of individual autonomy and mutual accountability.