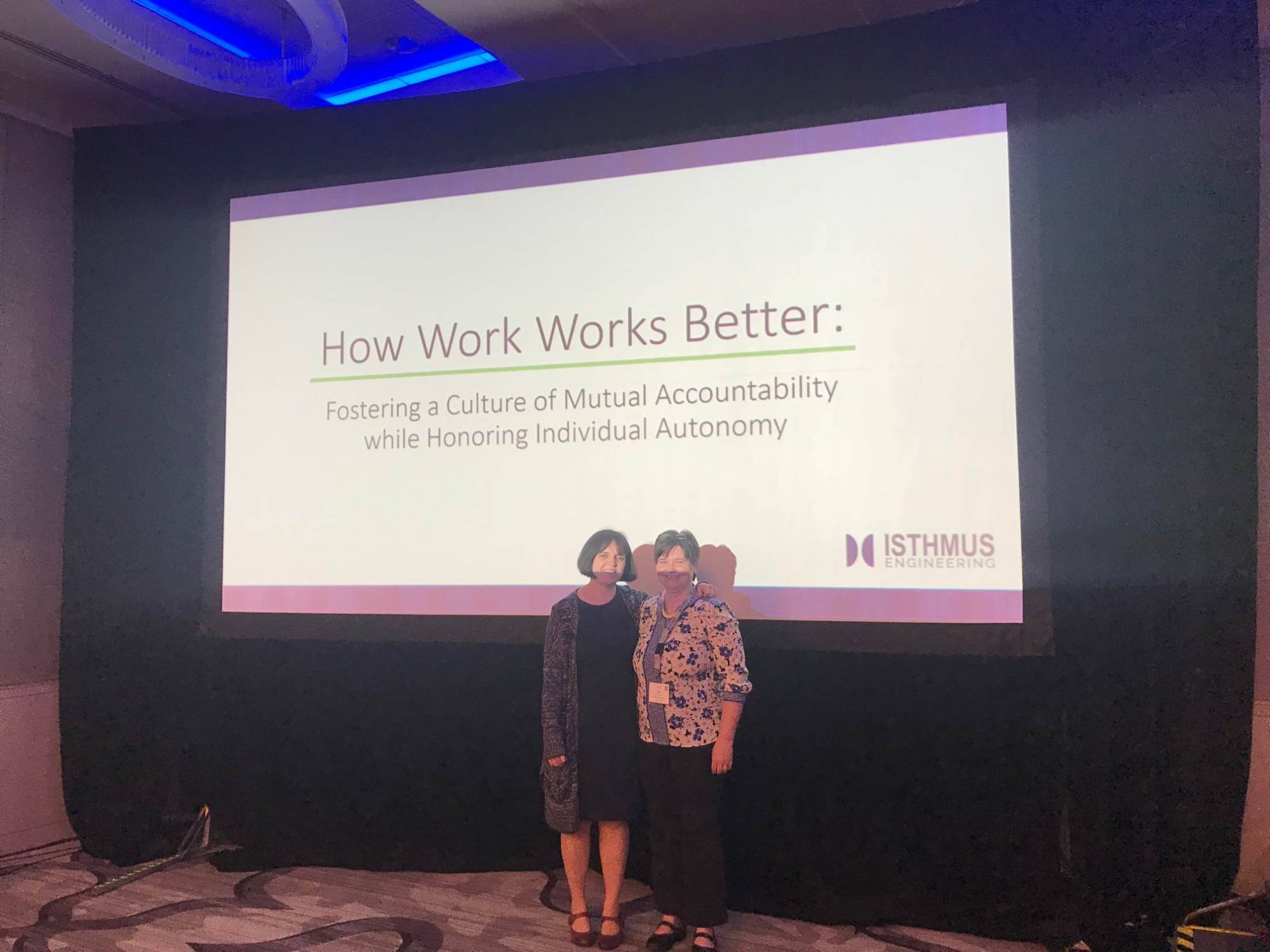 In May 2022, Katie Toghramadjian and Mary Karlsson presented at the ACEC Annual Convention & Legislative Summit in Washington D.C. Their presentation, "How Work Works Better: Fostering a Culture of Mutual Accountability while Honoring Individual Autonomy," highlighted how we work at Isthmus. This case study offered a deeper look inside our organization's systems and culture, identified common goals of an effective work environment, introduced our dynamic system of accountability, and shared specific examples of programs, practices, and tools.
Katie founded Isthmus in 2002 with the intuition that there was a better way to do business, one rooted in trust, empowerment, and autonomy. She loved working as an engineer, using design technology, and training others in the industry. Her career was very important and fulfilling, yet her number one priority was her young, growing family. Among other things, Katie knew that to contribute to the industry she loved in a meaningful way, she needed latitude over her work schedule. As she began to hire additional employees, she embraced the belief that employees who enjoy vibrant lives away from work bring more to their work each day.
She never could have known that 18 years later a global pandemic would suddenly shift all but frontline workers to remote work. That it would enduringly upset the status quo of the professional working world. That work-life balance would be more widely acknowledged, and words like flexibility, customized, and individualized would become commonplace and expected as much as accepted. That the original philosophy that led her to form Isthmus would allow Isthmus to thrive in the midst of such uncertainty and change.
Over the past 20 years, Isthmus has grown – slowly at first, then more steadily, and recently more significantly from 28 pre-pandemic in March 2020 to 44 in 2022. Throughout this growth, the Isthmus practices and tools that support individual autonomy and mutual accountability have emerged and evolved.
Our Model – "The Isthmus Way"
Graphically, the way we operate at Isthmus can be presented as a simple diagram but in practice, it is a dynamic cycle that relies upon communication, connection, and commitment.
Mutual assumption of positive intent and clear, proactive communication of expectations and feedback are critical to keeping the system in harmony.
A Sampling of our Tools and Practices
The tools and practices that support this model are generally not complex. Our distinctive approach begins in the hiring process, where our practices focus on finding team members who will thrive within our autonomous and accountable culture. We discuss our Core Values in interviews with prospective team members and provide as much insight as possible about what it's like to work at Isthmus.
Tools like shared spreadsheets to show core working hours, work locations, and office workstation availability help to support team awareness and collaboration in a context of high individual autonomy. While some of these practices developed during the pandemic, the majority of them were in place prior to March 2020.
Our Career and Peer Advocacy programs support all team members at all experience levels. Career Advocacy pairs a newer or younger team member with someone who is more experienced or further along in their career path. The Career Advocate creates a genuine trusting relationship through formal and informal interactions. It is meant to support career development, support workload sustainability, offer incrementally challenging opportunities, and foster our Core Values. Peer Advocacy is being piloted for our senior-level team members to offer peer-level support and intentional connection, while reinforcing culture, developing leadership, and building trust.
Our Office
While our office is once more alive with activity, most of our team continues to work primarily remotely, with a strong preference for a hybrid work model going forward. The Isthmus office building serves as a resource with spaces to focus, collaborate, and connect. Our team members are provided with the technology and support they need to work where works better for them – whether that be in our office, remotely, or anywhere in between.
Connecting and Collaborating
Our intentional and regular Isthmus Connections, allow us to stay connected and maintain a cohesive team culture even while we are not working side-by-side. From Tech Tuesdays via Zoom to Happy Hours on our rooftop Terrace, our All-Team Monday Morning Kick-Offs to one-on-one "Random" Connections, our team's commitment to each other is fostered and supported.
An intentional focus on weekly workload allocation helps ensure that projects have the appropriate level of support and that team members are engaged at a sustainable level. We achieve this through consistent and regular use of a resource allocation software system as well as standing overall and specific project coordination meetings and check-ins.
Moving Forward
In the face of a shifting workforce, creating systems that allow individuals and teams to thrive can achieve many common goals including,
Attracting and retaining talented employees
Promoting diversity, equity, and inclusion
Achieving sustainable productivity
Maintaining quality
Fostering connected and engaged teams
The Isthmus model offers a path toward creating a work environment that works better for both the company and the individual. At Isthmus it has allowed us to retain and continue to build a diverse, talented, and loyal team of professionals. If you are interested in learning more about this presentation, how you can move toward an autonomous and accountable culture in your own company, or Isthmus Engineering in general, please contact us – and we will connect you with our founder.